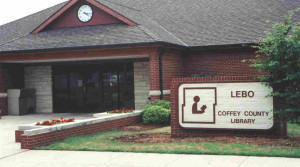 The Lebo Library is part of the Coffey County Library system. The Library is connected, via the County fiber optic system to the other libraries in the county as well as other Kansas libraries. This technical advance makes it possible to order materials from any of the branch libraries in Coffey County with deliveries on Mondays and Thursdays. Materials from any public library in the state of Kansas are available through our library.
In addition to the printed word, the Lebo Branch Library also has available, large print books, audio books, DVD's, cake pans, magazines and much more! They offer fax, color copying, and scanning services too!
Lebo Branch Library offers public access computers with a variety of software programs and Internet access. There is also a WI-FI hotspot!
The library has a community meeting room that is available for public gatherings. Call the library for more details.
Special Notices
E-Books are available through the Coffey County Library! Visit sunflowerelibrary.org.
All old Lebo Enterprise newspapers from 1889-1984 at Lebo Branch are now online. Visit http://coffey.advantage-preservation.com
Library Hours
Monday – 9:00 a.m. to 6:00 p.m.
Tuesday – 9:00 a.m. to 5:00 p.m.
Wednesday – 9:00 a.m. to 6:00 p.m.
Thursday – 9:00 a.m. to 5:00 p.m.
Friday – 9:00 a.m. to 5:00 p.m.
Saturday – 9:00 a.m. to 12:30 p.m.
Contact
Phone: (620) 256-6452
Fax: (620) 256-6301
Address: 327 Ogden, Lebo, KS 66856
Website: www.cclibraryks.org